ランシングヘリテッジの管理人ドンさんの説明・・・
バート N. ロカンシーは1970年にJBLを去り、最初にALTEC、次にGAUSS、そして米国パイオニアに移籍した。
パイオニアではHPMシリーズの開発を引き受けた。(画像はHPM-100)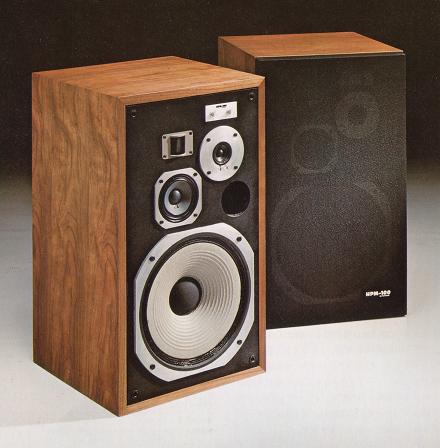 それでTAD・・・ううっ、これは長い・・・全部省略!
・・・だけど、もう少しだけ。
1969年に
エドモント メイ
(エド メイ)はJBLからCetec Gaussに移り、その頃、バートはALTECに移籍した。バートは、416-8Bや515のような鋳造マグネット(アルニコマグネット)磁気回路の最終型の開発を引き受けたが、JBLにいた頃のようには成功しなかった。結局バートはALTECから離れ、メイはバートをGAUSSに呼び寄せる。しかし、バートに用意されていたポジションは、スピーカー関連ではなくエレクトロニクス関連だった・・・
はいっ、おしまいです。すいません・・・
This gets mentioned every so often, but it has been a while so that a refresher is probably in order. The similarities between the 375 and TAD 4001 are no accident since they were designed by the same person - Bart Locanthi. This is the BNL that WGeiger referenced in a previous post.
Bart Locanthi was responsible for engineering at JBL for two decades. He started as a consultant in 1950 to fill the engineering void that resulted from Jim Lansing's death. He later joined the company full time as Vice President of Engineering in 1960. Unfortunately, there was a falling out with the new management of JBL when Bill Thomas sold the company. Locanthi left the firm in 1970 to first join Altec, and then Gauss, before ending up at Pioneer in the mid 70's.
At Pioneer, Bart was responsible for the HPM series of loudspeakers. This is why the first speaker in that series, the HPM100, bore a striking resemblence to the L100. To Figge, you should of held out for more than $80 for your HPM 70's since there is actually some demand for that series.
Pioneer considered it quite a coup to gain Bart's services since JBL was the single most revered loudspeaker brand in Japan. Pioneer gave Bart virtually unlimited resources to build the highest performing loudspeaker components possible for the first TAD product line. I have been told anecdotes of his being treated like royalty when visiting Pioneer's Japanese headquarters during the development process. At meetings, Pioneer's management would hang on every word and transcribe his comments as absolute orders to be followed to the letter.
The first TAD compression driver was specifically designed as an evolution of the 375. Bart had done the design work on that driver in 1953. It was pretty much a copy of the WE394, but replacing the field coil motor with an Alnico PM. The new TAD driver took the basic motor structure from the 375 and introduced berylium as a diaphragm material and changed the phase plug design to accommodate the extended bandwidth of the new diaphram material. The bass drivers were similarly derrivative of JBL designs, with the TAD 1602 borrowing from the LE15A.
The primary proponent of TAD in the US has been George Augspurger and his studio design firm, Perception Inc. George was also a previously long term employee at JBL and an associate of Bart Locanthi. George has designed most of the large format monitors that use TAD components for some of the highest profile studios in the industry. He mainly specs TAD due to the extended response of the compression drivers that allow for two-way deisgns. However, if this is not a requirement, he has used JBL compression drivers. Recently, he developed a hybrid monitor that used 4-12" JBL drivers from the LSR-32 for the bottom end.
Didnt Edmond May also wind up at Gauss?
Ed May went to Cetec Gauss first in 1969, where he was responsible for developing their line of loudspeaker components. Around that time, Bart moved from JBL to Altec. Bart was responsible for Altec finally adopting cast magnet structures for such drivers as the 416-8B and 515. He was also responsible for the 616-8A 15" Duplex, which is one of the most under-rated Altec drivers made. Unfortunately, Bart was no more successful with Altec management than JBL and they soon parted ways. His friend Ed May was responsible for getting him a position at Gauss. However, his position there was associated with electronics and not loudspeakers.
.